Welcome to the LLLP 2021 Conference
On behalf of the Royal College of Surgeons in Ireland, we very much look forward to welcoming you to the Life Long Learning in Pharmacy International Conference 2021. This will be a virtual conference, taking place from Sunday 27th to Wednesday 30th June 2021, hosted from Dublin.
The LLLP conferences bring together international and national colleagues to share their interest and research in the area of pharmacy education and professional development. The conference facilitates participant access to high quality educational programs, internationally significant research and development, and world-renowned leaders in the field.
The 2021 conference will be a particularly special one, because we missed the opportunity to connect at LLLP 2020 due to COVID-19. We all have lots of experiences and learnings to share from the past year, which guarantees rich conference content. Added to this, there will be the special connection, collaboration and community, which have now become hallmarks of the LLLP conferences. Delegates who have previously attended LLLP will have the opportunity to build on established relationships with international colleagues as well as form new connections. New participants will find a warm welcome into a new international network.
Abstracts are now closed, and the programme is being finalised with plans for time zone friendly engagement, high quality research, and opportunities to interact with international colleagues.
EarlyBird tickets are NOW on sale at a reduced price of €350 until May 1st inclusive.
We are organizing this conference for the third time (LLLP 2020, LLLP 2021, LLLP2021 virtual!) so we appreciate your patience as we prepare for a fantastic event.
Whilst we're sad not to be able to see you in person to Dublin, we promise to extend our characteristically warm Irish welcome to you virtually, and look forward to connecting with you in June.
Please sign up to our mailing list below to remain up to date on details as they are announced.
Thank you to our LLLP sponsors, international committee, host committee and educational committee for their tireless work and contribution, and to you for your patience and support.
Best wishes
Catriona.
Catriona Bradley,
Host Committee Convenor
Executive Director, Irish Institute of Pharmacy
Reason #17 to register for LLLP2021 - the Come Visit My Oral sessions. While the oral presentations are prerecorded and available on demand, these sessions are a live snapshot of what they're about, to guide your viewing time. Have you registered??? #lllp #pharmed https://t.co/LtLkDUxUQB
Read More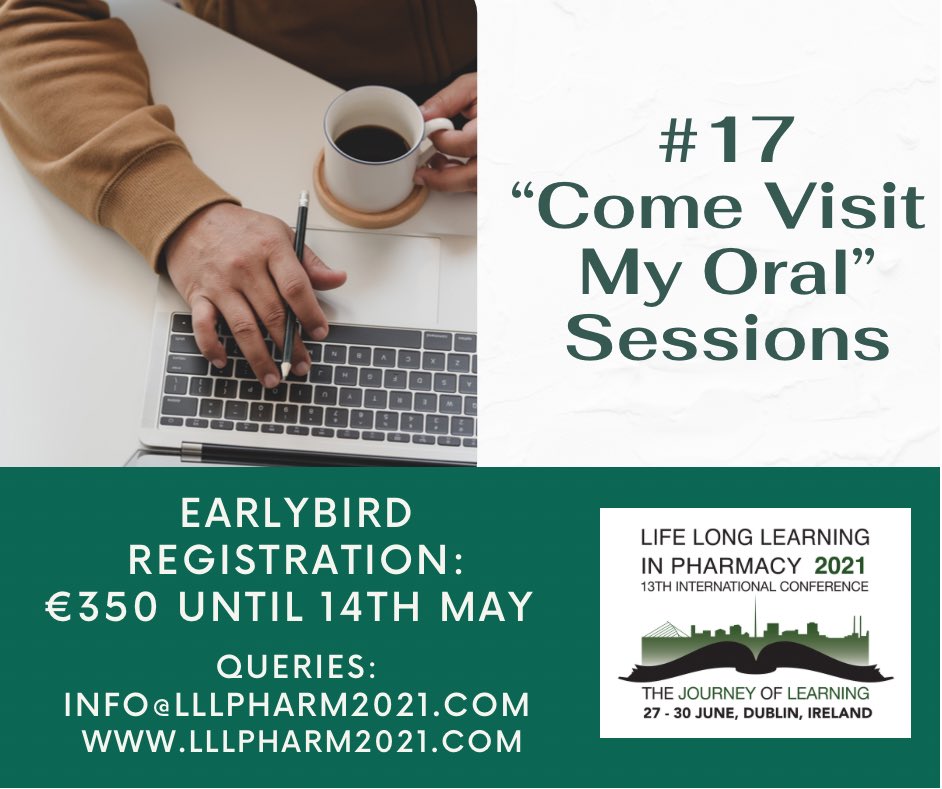 Reason #16 to register for LLLP - the "Come Visit My Poster" live sessions. A one minute presentations of the posters by the authors to identify which ones you want to find out more about. #lllpharm #pharmed #quickfire https://t.co/d7S1pTY6O7
Read More